As co-host for a baby shower this past weekend, one of my duties was to bring cupcakes.  I decided to make them, since they can be so expensive.  I found a few recipes and ran them past the mom-to-be, and she picked banana chocolate chip with cream cheese frosting.  The first recipe I tried was this one, except with plain cream cheese instead of strawberry. I was glad I did a trial run. The cupcakes were dense, like banana bread, and stained the cupcake liners. I researched cupcake liners and found that some places sell foil lined "fade proof" or "grease proof" liners. I picked some up at JoAnn. I also know, from making other recipes, that cake flour might be beneficial for a lighter texture, so I searched for a recipe with cake flour. I finally settled on this recipe for banana chocolate chip cupcakes, but without the peanut butter frosting. I doubled it, because we were expecting at least 26 guests, and I'd rather have too many than not enough.
I have had GREAT luck with all of the recipes from Simply Recipes, so I used her recipe for cream cheese frosting. This recipe was twice as big as the recipe from the first link with the strawberry cream cheese, which had been enough for 18 cupcakes, so I figured that a single batch of the Simply Recipes Cream Cheese Frosting would be enough for 36 cupcakes. It was plenty.
I found some woodland animal sugar decorations on EBay that I thought were just perfect!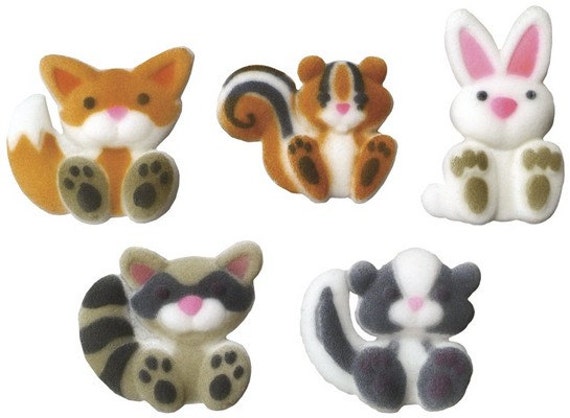 All in all, these were good. They're not my favorite, but the mom-to-be seemed to love them and my coworkers devoured the leftovers within an hour.